231 (Registered)

(0 Review)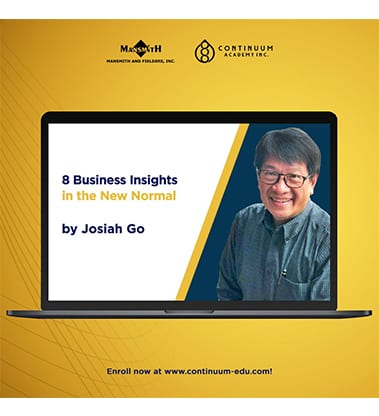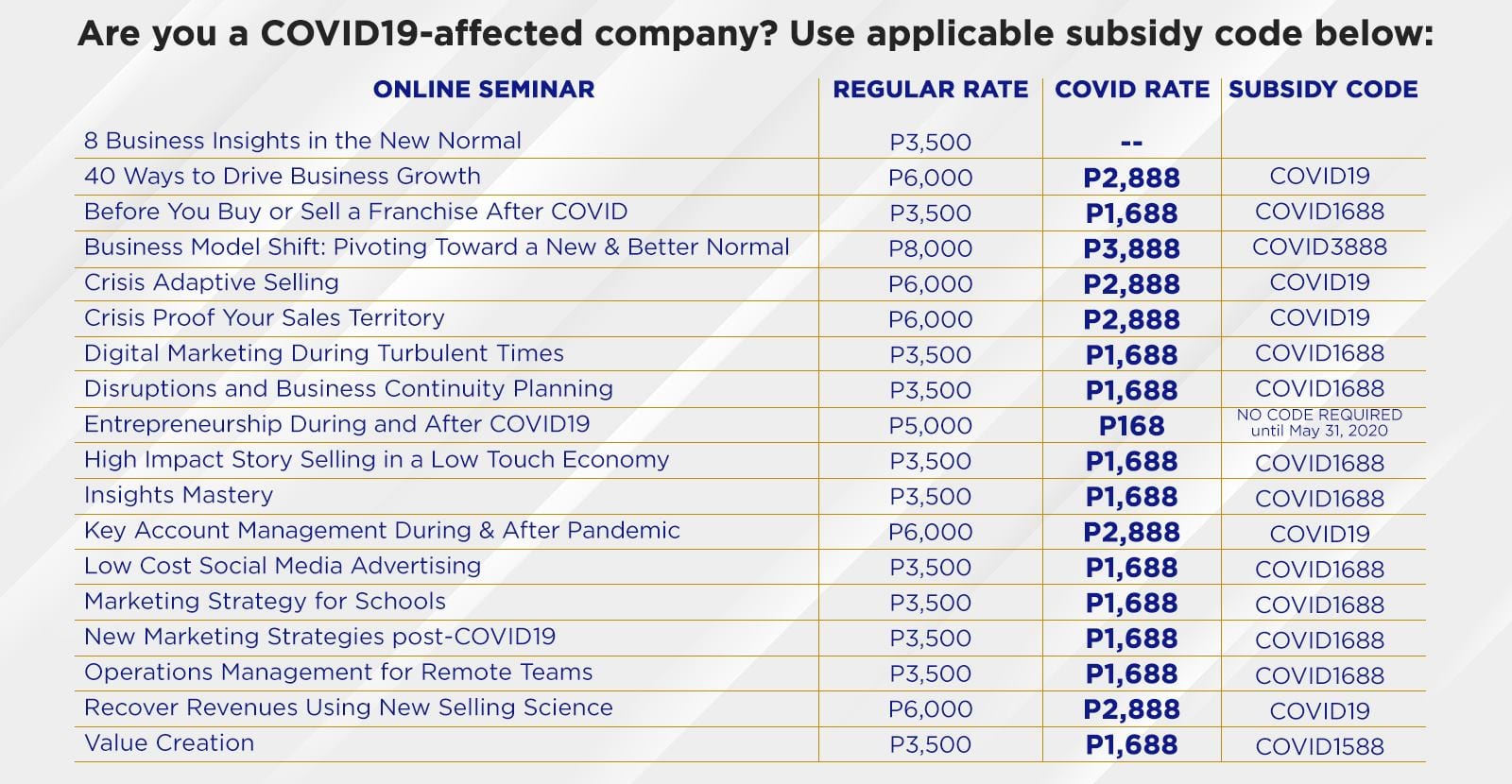 What should business owners do in the new normal? Record-breaking, best-selling author Josiah Go shares 8 insights you do not want to miss! Key topics range rom specific recovery strategies, crafting your marketing message, to what to do before deciding to quit.
Benefits to Participants:
A new perspective on how to recover during the new normal
8 ready exercises to reflect what's needed in the new normal
Course Content
Total learning:

10 lessons
Module 1

0/1

Module 2

0/1

Module 3

0/1

Module 4

0/1

Module 5

0/1

Module 6

0/1

Module 7

0/1

Module 8

0/1

Rating and Testimonial

0/1

Evaluation

0/1
Speaker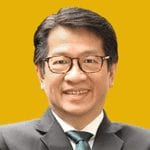 Josiah Go is the Chairman and Chief Innovation Strategist of Mansmith and Fielders, Inc., and Chairman of Waters Philippines (the market leader in the direct selling of premium home water purifiers in the Philippines). He is Chairman / Vice Chairman / Director of over a dozen companies. He is thought leader with 18 bestselling and recordbreaking marketing and entrepreneurship books, as well as the most awarded business educator of the Philippines having been recognized as one of the Agora Awardees in 1994, one of the Ten Outstanding Young Men (TOYM) of the Philippines in 2001, one of the Ten Outstanding Young Persons (TOYP) of the World in 2002 (the 1st and only Filipino in Business Education given by World JCI in a competition of over 1,000 TOYMs), and one of only two Lifetime Achievement Awardees by the Association of Marketing Educators (2007), the youngest marketing educator to be bestowed this honor. He was also given the Brand Leadership Award during the World Brand Congress in India (2009). His accomplishments were recognized by the international community where he has been included in the 10th edition of the International Who's Who of Intellectuals (England). He is an Executive Scholar of the Kellogg Business School (in Marketing and Sales Management) as well as the MIT Sloan (in Strategy and Innovation). He also took advance marketing programs at Harvard, Wharton and at the London Business School.