18 (Registered)

(0 Review)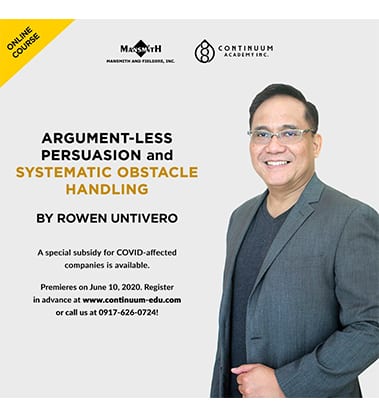 Of 9 Buy-in obstacles, only 3 are objections. The 6 get past you. Those are sales you can't close.
TIME TO STOP losing business that deserve.
Gain a COMPLETE BUY-IN OBSTACLE HANDLING SYSTEM all on a ONE-PAGE TOOLBOX:
3- Stage Process
2-step Diagnostics to determine 3 natures and 9 types of obstacles
Customer personality -tailored options to handle each type of obstacle
Get this back-to-back with ARGUMENT-LESS PERSUASION!
Course Content
Total learning:

51 lessons
Speaker
Rowen Untivero has 3-decade experience in Training, Consulting, Coaching Hundreds of Companies. He has developed Numerous Original Framework in Sales, Negotiation, B2B Marketing & Management: Selling Science, Nego-Math, Nego-Mapping, B2B Account Strategy System, 3D Language Wheel, CROSS Problem Management Method, Transitioning Matrix, Sales Management KRAs. He also has 3-decade practice of sales, marketing, management, having worked in Alcatel, Smart, Tupperware, P&G. He held directorships of organizations: AdBoard, PANA, PANA Foundation, Philippine Marketing Association (PMA), with academic and teaching Background from UP, DLSU, ADMU and University of Chicago Booth School of Business. Currently, he is CEO of Critical Link, KinetX and Connecting Mavens.