28 (Registered)

(0 Review)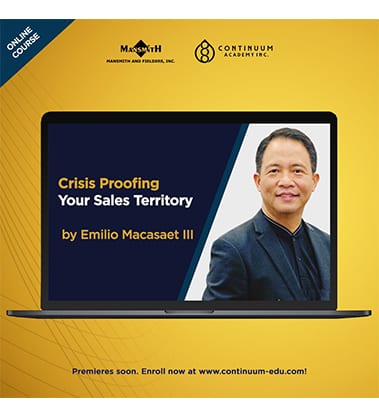 The recent strings of seismic events from African Swine Fever, eruption of Taal Volcano, to the current pandemic caused by COVID-19, caught many sales territory managers badly off guard. For many companies, the precipitous decline in sales revenues, profits, and number of customers were just daunting. Much as we'd like to hope for the best, we can't remain dismissive of more potential threats ahead. As Louis Pasteur once said, "Chance favors the prepared mind."
This course teaches participants how to develop agile territory plans that mitigate the impact of a crisis or any form of threat, should one occur. This course generously provides models and processes, case examples, and stories from our international and local guest lecturers, to enhance the overall learning experience.
PREMIERES ON MAY 27, 2020 at www.continuum-edu.com.
Course Content
Total learning:

15 lessons

/ 2 quizzes
Speaker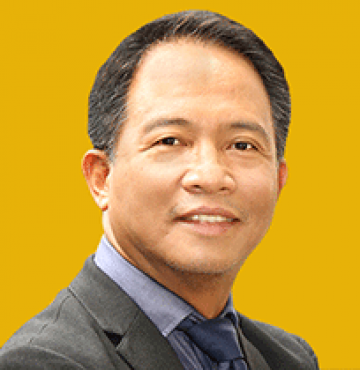 Emilio Macasaet III is the Chairman and CEO of FIELD PARTNERS INC., and Partner and Chief Channel Marketing Strategist of Mansmith and Fielders, Inc. He is he best-selling author of "Distributor Management: Winning Tools in Managing Distributors as Partners", the first ever book on distributor management in the Philippine Market, "6 Steps To Effective Key Account Management", and the newly launched book, "Fundamentals of Trade Marketing". He brings with him very extensive and intensive corporate experiences gained from both local and multinational companies like Gillette, Nestle, L'Oreal, Metrolab and RFM Corporation where he was Vice President of Sales & Distribution division. He obtained his MBA from Ateneo De Manila University and took his Doctor in Business Administration at De La Salle Graduate School of Business where he was a former MBA professor in Distribution Management. Currently, he is adjunct Professor in Marketing Management and Brand Management at the Ateneo Graduate School of Business (AGSB). He has attended an executive program on Marketing Channels at Kellogg School of Management, Northwestern University, Chicago; and other special programs at Singapore Institute of Management (SIM), Singapore, and Shopper Marketing Research at the Burke Institute, USA.