177 (Registered)

(2 Reviews)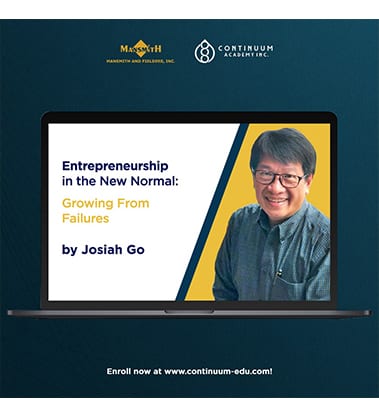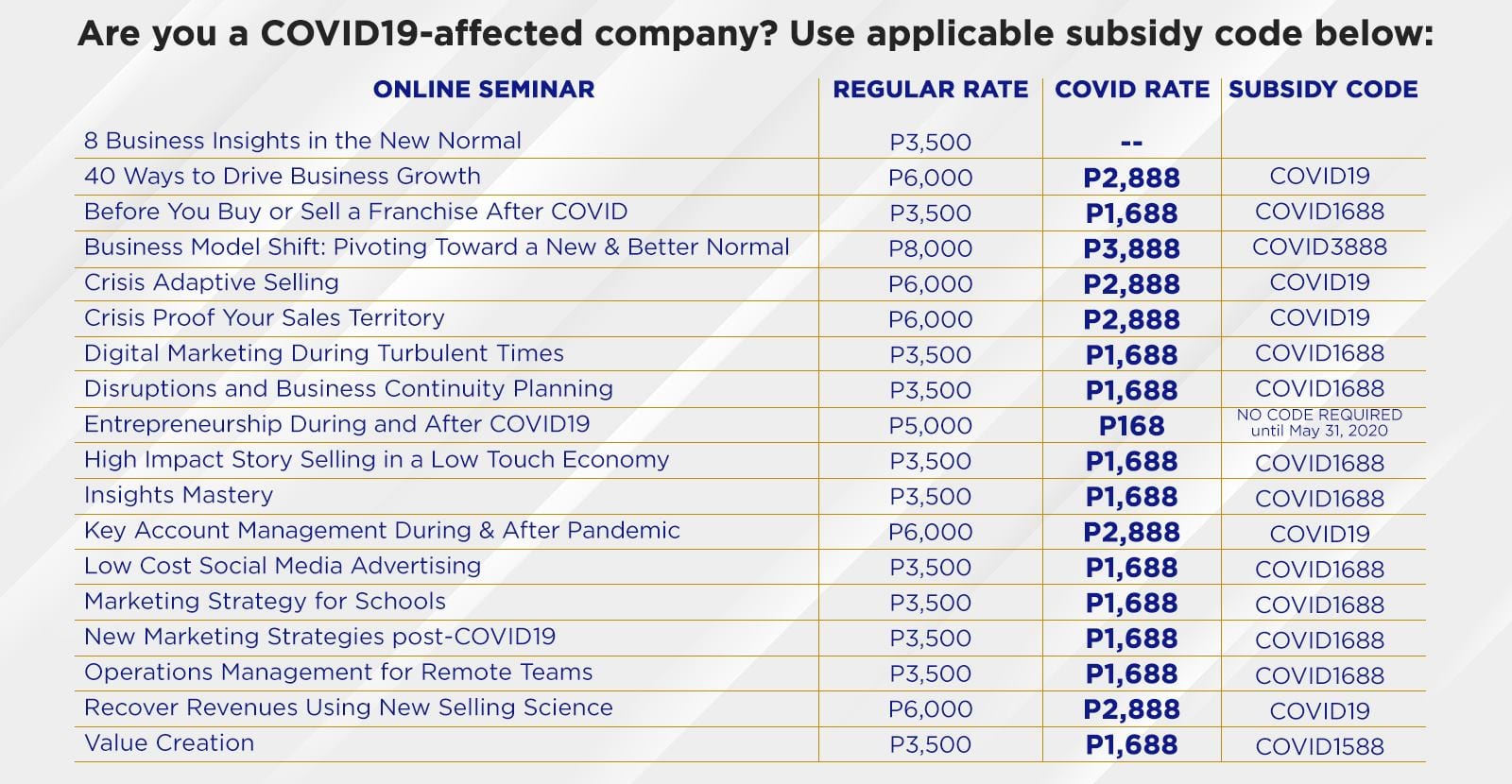 Most entrepreneurs are suffering because of Covid and the ECQ. The lack of revenues but with ongoing costs will force them to make choices before cash run dry. This online seminar will help entrepreneurs make deliberate choices, not impulsive ones.
The content of this seminar is based on the speaker's own success in recovery during crisis, as well as his mentoring thousands of entrepreneurs since the mid 2000s. The speaker did a deep dive comparing successful and unsuccessful entrepreneurs, the results are presented as frameworks to easily allow participants to evaluate and learn from what went right and what went wrong.
Even founders of big businesses will recognize themselves as the speaker walks us through a two-hour of direct-to-the-point, no holds barred online seminar, divided into 6 videos in easy listening and sharing format.
Benefit to the Participants
· Identify what went right versus what went wrong in their business (Hint: Can't blame all to Covid)
· How to recover from a crisis
· Options before quitting entrepreneurship (Hint: Entails humility)
with 13 reflection exercises spread throughout the 9 videos
PREMIERES ON MAY 12, 2020. All videos and handouts will appear by then.
Course Content
Total learning:

12 lessons
Time:

5 days
Course Introduction

0/1

Modue 1

0/1

Module 2

0/1

Module 3

0/1

Module 4

0/1

Module 5

0/1

Module 6

0/1

Module 7

0/1

Module 8

0/1

Module 9

0/1

Rating and Testimonial

0/1

Evaluation

0/1
Speaker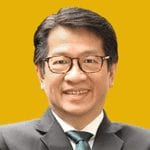 Josiah Go is the Chairman and Chief Innovation Strategist of Mansmith and Fielders, Inc., and Chairman of Waters Philippines (the market leader in the direct selling of premium home water purifiers in the Philippines). He is Chairman / Vice Chairman / Director of over a dozen companies. He is thought leader with 18 bestselling and recordbreaking marketing and entrepreneurship books, as well as the most awarded business educator of the Philippines having been recognized as one of the Agora Awardees in 1994, one of the Ten Outstanding Young Men (TOYM) of the Philippines in 2001, one of the Ten Outstanding Young Persons (TOYP) of the World in 2002 (the 1st and only Filipino in Business Education given by World JCI in a competition of over 1,000 TOYMs), and one of only two Lifetime Achievement Awardees by the Association of Marketing Educators (2007), the youngest marketing educator to be bestowed this honor. He was also given the Brand Leadership Award during the World Brand Congress in India (2009). His accomplishments were recognized by the international community where he has been included in the 10th edition of the International Who's Who of Intellectuals (England). He is an Executive Scholar of the Kellogg Business School (in Marketing and Sales Management) as well as the MIT Sloan (in Strategy and Innovation). He also took advance marketing programs at Harvard, Wharton and at the London Business School.
CathyFMA

Entrepreneurship

Thank you very much for the enriching and comprehensive course on entrepreneurship. It can be seen how Mr. Josiah Go's lifetime experience in business has formed him to be an entrepreneur of integrity, wisdom & compassion.

A very great deal. Thanks Sir Josiah. :)