903 (Registered)

(1 Review)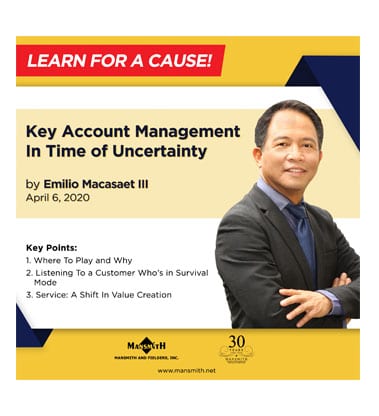 Continuum Academy offers another insightful FREE Mansmith online seminar on Key Account
Management in Time of Uncertainty by Emilio Macasaet III, Mansmith Partner and Chief Channel Marketing Strategist.
Course Content
Total learning:

2 lessons
Key Account Management in Time of Uncertainty

Key Topics: 1) Where to Play and Why, 2) Listening to a Customer Who's in a Survival Mode, 3) Service: A Shift in Value Creation

0/1

Rating and Testimonial

0/1
Speaker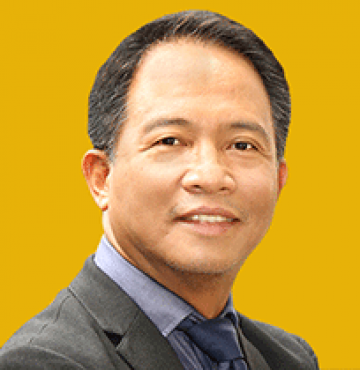 Emilio Macasaet III is the Chairman and CEO of FIELD PARTNERS INC., and Partner and Chief Channel Marketing Strategist of Mansmith and Fielders, Inc. He is he best-selling author of "Distributor Management: Winning Tools in Managing Distributors as Partners", the first ever book on distributor management in the Philippine Market, "6 Steps To Effective Key Account Management", and the newly launched book, "Fundamentals of Trade Marketing". He brings with him very extensive and intensive corporate experiences gained from both local and multinational companies like Gillette, Nestle, L'Oreal, Metrolab and RFM Corporation where he was Vice President of Sales & Distribution division. He obtained his MBA from Ateneo De Manila University and took his Doctor in Business Administration at De La Salle Graduate School of Business where he was a former MBA professor in Distribution Management. Currently, he is adjunct Professor in Marketing Management and Brand Management at the Ateneo Graduate School of Business (AGSB). He has attended an executive program on Marketing Channels at Kellogg School of Management, Northwestern University, Chicago; and other special programs at Singapore Institute of Management (SIM), Singapore, and Shopper Marketing Research at the Burke Institute, USA.
Darwin0718

Key Account Management as a Strategy