17 (Registered)

(0 Review)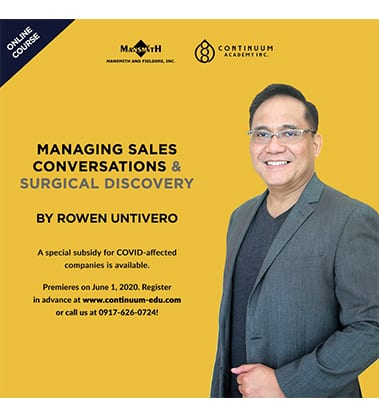 Skill and luck are involved in making a sale. If luck represents the unknown elements and skill the ability to find out what those unknowns are, then whoever is capable to discover more unknowns faster than competitors, gains control and relies less on luck when selling.
So, STOP gambling (relying on luck), GAIN MORE CONTROL (skill) over your sales opportunities..
To find out about those unknowns (particularly why and how the customer will decide) in the most effective and swiftest manner two major skills in Selling Science and Mechanics are MUSTS to master: Managing Sales Conversations (to suavely control the sales meeting) and Surgical Discovery.
PREMIERES ON JUNE 1, 2020 only at www.continuum-edu.com!
Course Content
Total learning:

48 lessons
Course Introduction

0/1

Module 1A

Whats and Whys of Managing Sales Conversations

0/7

Module 1B

How to Effectively Execute Sales Conversation Management

0/6

Module 2A

The Whats and Whys of Surgical Discovery

0/15

Module 2B

How to Effectively Execute Surgical Discovery

0/17

Rating and Testimonial

0/1

Evaluation

0/1
Speaker
Rowen Untivero has 3-decade experience in Training, Consulting, Coaching Hundreds of Companies. He has developed Numerous Original Framework in Sales, Negotiation, B2B Marketing & Management: Selling Science, Nego-Math, Nego-Mapping, B2B Account Strategy System, 3D Language Wheel, CROSS Problem Management Method, Transitioning Matrix, Sales Management KRAs. He also has 3-decade practice of sales, marketing, management, having worked in Alcatel, Smart, Tupperware, P&G. He held directorships of organizations: AdBoard, PANA, PANA Foundation, Philippine Marketing Association (PMA), with academic and teaching Background from UP, DLSU, ADMU and University of Chicago Booth School of Business. Currently, he is CEO of Critical Link, KinetX and Connecting Mavens.