2ND MANSMITH SALES SUMMIT

EMERGING SALES COMPETENCIES
SESSION 1: Mastering your S.P.A.C.E. (Shoppers, Product Assortments, and Channel Expansions) by Asher John Lu (Sales Director, Procter & Gamble)
SESSION 2: How Pull and Push Promotion Initiatives Drive Sales by Celina Matias (VP-Integrated Mkgt & Strategy, Phoenix Petroleum)
SESSION 3: Building ICT Supply Chain Resiliency by Manuel Wong (Managing Director, Acer)
Synthesis by Emilio Macasaet III, Conference Chair
SESSION 4: Traction: Get a Grip on Your Business by Chris Quimbo, (President & GM, Novelino)
SESSION 5: New Generation Sales Management by Jayvee Badile (Asia's Youngest Master Agency Manager, Sun Life)
SESSION 6: The Human Side of Digital Transformation in Sales: How to Effectively Communicate With More Than Words by Beth Dureza (Managing Director – Asia Pacific, IBS Electronics)
Synthesis by Emilio Macasaet III, Conference Chair
Amount to be paid upon check out. Live access to March 8 – 9 sessions
Use this coupon code (SALES) to apply the discount. Applicable to first 1000 participants.
Coupon code is valid only if paid on or before March 1, 2022.
Regular Rate: P4000
P3500 discount from our Year-Long Platinum Partners.
HOW TO REGISTER & HOW TO PAY?
Click the Register here button and fill out the required information.
Click "Have a coupon?" and apply the coupon code SALES to avail the subsidized price of P500
Pay and email us the proof of payment for GCash and bank transfer.
IMPORTANT: To confirm your registration, send your proof of payment at info@continuum-edu.com.
CONTINUUM BANK ACCOUNT
RCBC Bank
Account Name: Continuum Academy, Inc.
Branch: New Manila Branch
Savings Account #: 7590681424
CONTINUUM GCASH (Please scan QR Code to Pay)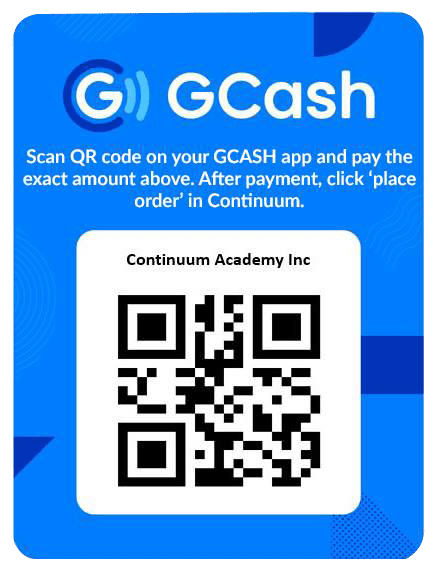 For inquiries, email Julie at info@continuum-edu.com