12th Mansmith Market Masters Conference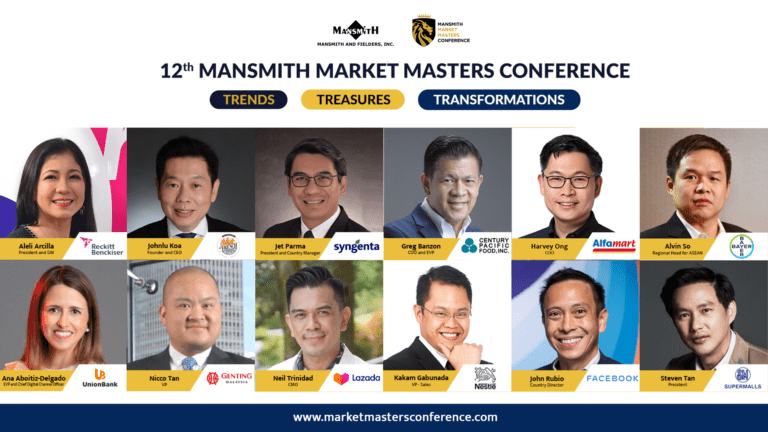 The Marketing Conference of 2021
Featuring CEOs, COOc and CMOs in the Philippine and ASEAN context
Session 1: What CEOs Expect From Marketers Post Crisis
Aleli Arcilla, President and GM of Reckitt Benckiser Philippines

Johnlu Koa, Founder and CEO of French Baker

Jet Parma, President and Country Manager of Syngenta Philippines
Key discussion points
What skills and behaviors should marketers need to face in the post-pandemic world and why?

What does the change in consumer behavior mean for marketers and their organizations?

What should marketers do more, as well as do less, in order to be more relevant to the CEO?
Session 2: The Wisdom and Perils of Business Expansion Amidst Crisis
Greg Banzon, COO and EVP of Century Pacific Food

Harvey Ong, COO of AlfaMart Philippines

Alvin So, Regional Head for ASEAN of Bayer Consumer Health
Key discussion points
How do you spot and maximize opportunities while effectively managing cost during a recession?

How do you mitigate risk during uncertain times?

How do you co-create the future with key channel members?
Session 3: The Next Wave of Digital Transformation
Ana Aboitiz-Delgado, EVP and Chief Digital Channel Officer of Union Bank

Nicco Tan, VP of Genting Malaysia

Neil Trinidad, CMO of Lazada Philippines
Key discussion points
What do you need to consider and not overlook before doing a digital transformation?

What is the next big thing that should be expected in a digital transformation?

Should companies catch up or just jump to the next big thing?
Session 4: Trends Spotting in 2022 and Beyond
Kakam Gabunada, Vice President of Nestle Philippines

John Rubio, Country Director of Facebook Philippines

Steven Tan, President of SM Supermalls
Key discussion points
What should marketers anticipate in emerging channels and why?

What changes in consumer behaviors should be expected and what will be the implication to the marketing plan?

What is the future of in-store touchpoints and how will these be used and why
About Course Designer
Login
Accessing this course requires a login. Please enter your credentials below!