Business Model Innovation for Corporate Transformation: Selection, Pivot, Risk Mitigation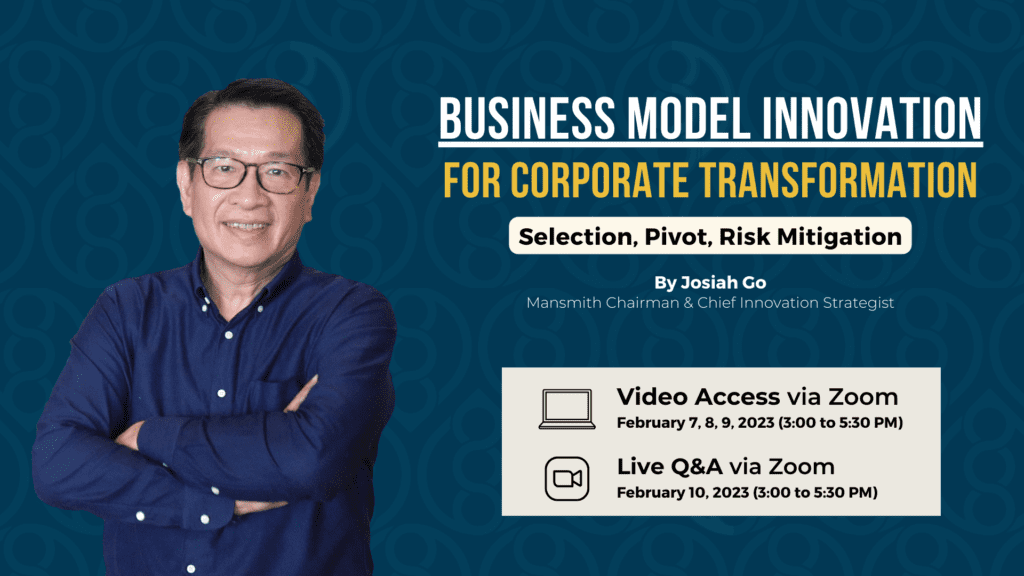 FOR TIME-STARVED EXECUTIVES
What you will get:
February 7, 8, 9, 2023 (3:00PM – 5:30PM): Video Lecture 1 – 3 via Zoom
February 10, 2023 (3:00PM – 5:30PM): Live Q&A with Josiah Go via Zoom 
Topic 1
Topic 2
Topic 3
Live Q&A with Josiah Go
Topic 1
VIDEO CLASS SESSION (February 7, 2023 | 3:00 PM – 5:30 PM | Via ZOOM)
Topic 1: Selection and Innovation Beyond Products and Processes
·      Business strategy vis-à-vis Business model
·      2 parts of a business model: Offering model and the Operating model
·      5 building blocks of Offering model: Target market, Value Proposition, Channel, Customer Bonding Strategy, Revenue Model
·      6 building blocks of Operating model: Value Chain, Processes, Resources, Complementors, Reconfiguring for Innovation, and Cost.   
·      Evidence of indispensability of value chain and innovation as common business language for effective conversation
·      How value architecture affects quality of value proposition: Implication to competencies.
·      Selection criteria deep dive to evaluate and redirect each of the 11 building blocks for competitive advantage.
·      Why business model innovation is the 4th level of differentiation.
·      What's wrong with adopting Western concepts and methodologies in the Philippine market? 
·      Cases from restaurant and consumer durable industries
·      Cases from the Philippines
Topic 2
Topic 3
Live Q&A with Josiah Go
Regular Rate

Php 6,000 (Non-VAT)

REGISTRATION IS CLOSED

Regular Group Rate: 5 + 1 Free

Php 30,000 (Non-VAT)

5 paid + 1 free participants (Must be from same company) REGISTRATION IS CLOSED